About Us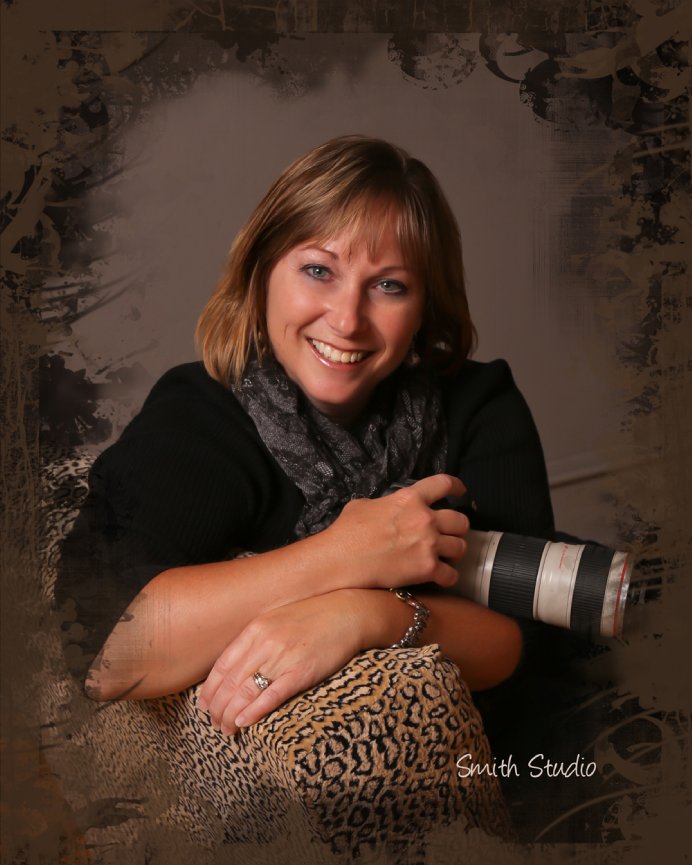 Smith Studio offers in-studio and on-location portrait sessions. Whether you want traditional portraiture, or completely unique images, if you can imagine it, we can create and capture it. We absolutely love our downtown Denver studio and the freedom and comforts it provides us and our clients. Within walking distance we can find an urban feel or a short ride in the car will bring us to many fun areas! Children seem especially at ease when they are introduced to a studio that is in a comforting environment as opposed to a loud and crazy mall studio. We like to think of our studio as the perfect place to create a fun experience for every client that we have the privilege to work with. As one of our clients, you will enjoy personalized service, cold drinks, goodies for the kids, a changing room, all while at the studio. After the session you will be invited back to preview your portraits on our big screen monitor! We will also provide on-line viewing so you may share your awesome photos with family and friends! While ordering can be done on-line, we also offer one-on-one ordering here at the studio because we offer so many unique products to showcase your photos! We love beautiful photography, interesting art, good music and great design, and we blend it all together to create unique and creative photographic art.

Deb Smith - "the Photographer"! She has so much fun with ALL her clients! After almost 17 years she has a way to make you feel comfortable and at home here at Smith Studio. Deb and her husband have lived in the Denver area for many years. Her studio has offered her the flexability to run a successful business and enjoy the many activies her three kids have thrown her way! Don't worry if you hear her giggle during a shoot - as this means she is so excited about the shot she just got! She will strive to make your experience fun and enjoyable!

Julie Larson-"the Best Assistant in the World"! Julie has been with Smith Studio for 8 years. She is best known as "Mrs. Larson" as she taught preschool in town for 14 years, including my three children. I was fortunate to snag Julie after she chose to start a new chapter in her life. Julie's ability to create unique digital artwork for a one-of-a-kind piece is outstanding. She truly cares about our clients and guides their decision making process by discussing product options, creating while you watch, and makes changes until you love what she creates. Not only is Julie outstanding with clients on the sales end, she also is a tremendous help behind the scenes. I trust Julie to manage the studio while I may be out on a shoot, delivering photos, or running my kids around. You won't find a more personable and friendly face and she loves to have fun too!



What to Expect - Seniors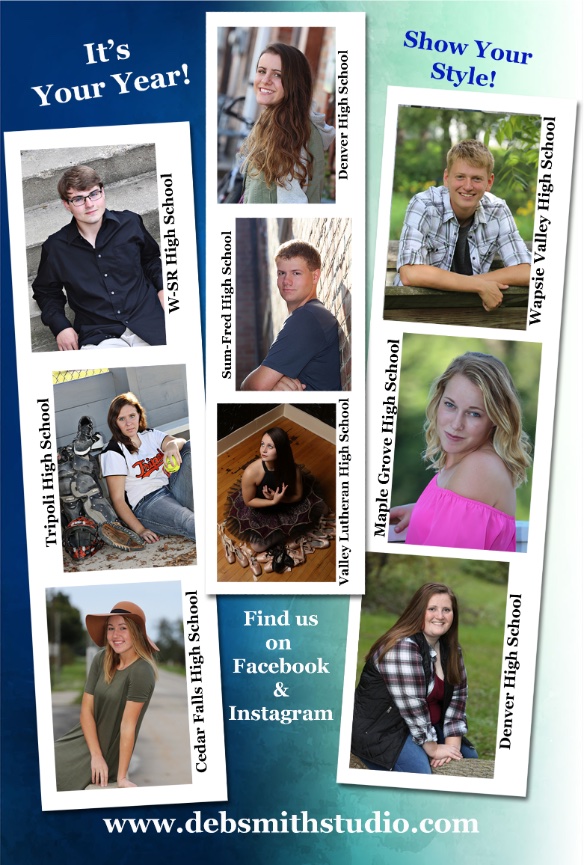 There are certain things you as a Smith Studio Senior should be aware of and watch for in your preparation of your session. Below are some tips or a few guidelines that over the years we have found help us and YOU to create a stronger portrait session. PLEASE read over these and if you have any other questions please contact the studio via e-mail or call us at 319-984-6732.
ARRIVE EARLY
If you are scheduled from 3:00 - 5:00 and show up late or are not ready, you will have less time. If you need to get ready here (hair, makeup, etc.) please arrive early enough to be ready by your start time.
CLOTHING
Vary the style, all one look (like tanks) gets boring. Vary the dress level, bring some dressy, some medium and some casual. Remember, it is best to do one or two outfits that mom will like, then we can do the stuff YOU like.
Our sessions let you do unlimited looks within your time period. This means if you change fast, you get more variety. Spend all day in the dressing room, you get less time in front of the camera. Most people can get 3-4 looks per hour. We suggest you bring double what you think we will do so we have more to pick from.
Some shots are close up, others are full length. Plan outfits completely. It is hard to do a full length formal in your suit if all you brought was big old tennis shoes. Speaking of suits, please include DARK socks and dress shoes to complete the look. Don't know how to tie a tie? Deb can or bring it pre-tied to slip over your head.
Also remember, as a general rule, light clothes look better on lighter backgrounds and darker clothes look better on darker backgrounds. So if you prefer dark, bring dark, if you prefer some of both, bring both.
Group your outfits together ON HANGERS. It is amazing how many people come in with clothes stuffed in a bag and wonder why they are wrinkled! Make sure they are ironed. Although we have an iron for touch ups, we don't want waste your time on ironing.
If you are doing an outdoor session, most locations do not have places to change. You can wear a layered outfit and drop or add a piece for a different look. You can also use our vehicle to change!
CLOTHING STYLES
Make sure your clothing flatters you. If you think you have large arms, be careful of sleeveless styles, they can make your arms look fuller. Shorts are okay, however, bring some long pants too.
The black and white glamour look that is so poplular is best with black clothing. The contrast between the skin and black is what makes them so dramatic. So bring some black!
MAKEUP
Makeup should only be slightly heavier than normal-about like you might wear in the evening. Mascara should be clean and contain no clumps. So if your mascara is old and clumpy, replace it first. Avoid makeup with sparkles in it. When you move, it makes a nice shimmer, but in a photo, where you are still, it creates a little white spot that almost looks like a zit. Also avoid heavy liquid makeup and makeup with an SPF in it. Although it is good for your skin
in the sun, the SPF tends to create a shine. Summer shine can be controlled by using translucent powder that knocks out the shine without adding additional color. Please bring your makeup along to your session so you can do quick touch ups as needed. Don't forget your lips! Add a touch of color or shine to them. Lip gloss offers a great pop to your photos.
SHAVING
Please make sure you are clean shaven. Retouching stubble may cost you extra and still does not look as good as a clean shave. Boys, got a goatee that mom hates, but you love? Do your casual shots first with it on, bring your razaor and go to the restroom and do a quick shave for mom's formals. Everyone is happy that way!
HAIR
Avoid changing your hairstyle or cutting your hair right before your session. Let it be natural. Quick easy hairstyle changes during your session are OK, but make it quick or you lose camera time. Artificially bleached hair is often not the best, in 10 years you might say - "What was I thinkging??" Bring your own hair care tools and products with you. It is ok to show up early in curlers if you need to!
We will try and help with hair, however, it is hard to know what your hair is supposed to look like. So remember hair sytle if ultimately YOUR responsiblity.
JEWELRY
If you have different jewelry for different outfits, you might put each set of jewelry in a plastic baggie and hang it on the hanger with that outfit. Jewelry adds a personal touch to show your style!
PROPS
BRING THEM!! Bring props that help define who you are. Some popular choices are: Sports equipment (balls, hurdles, medals, whatever), sports uniforms (include your shoes), musical instruments (from flutes to rock guitars), activies (dance, swimming, FFA, books, you name it!), vehicles (cars, trucks, four wheeler, motorcycles), skateboards, bicycles, etc... the possibilites are endless!
GLASSES
Most glasses glare! Some prescriptions more than others. Your best bet is to check with your optometrist. Most will loan you an empty set of frames similar to yours for your photo session. We have even had some remove their lenses just during their session. It can make a big difference!
SUNBURN/TANNING
Tan lines are not attractive in portraits. We suggest you vary your swimsuit top to minimize any tan marks. Remember to not overdo your tanning, skin that looks like dark leather is not the most attractive.
Avoid SUNBURN! Sunburn and peeling skin DO NOT photograph well!! Tan, yes, burn no! Don't overdo!
COMPLEXION
We retouch blemishes, so don't worry about minor breakouts!
PETS
Pets are OK as long as they are house broken. It is a good idea to have someone bring your pet and then leave with them after the pet shots are done. Treats can be helpful to hold a dogs attention.
PARENTS & FRIENDS
Parents and friends are welcome. They can be a help. HOWEVER, if they distract you, it is best to have them wait in the front reception area of the studio. You can have a couple of shots with a boyfriend, girlfriend, best friend or sibling at no extra charge.
WEATHER FOR OUTDOOR SESSIONS
Let's face it, we are at the mercy of mother nature. If it rains, no fretting as we can't do anything about it, we will simply reschedule. Don't worry about clouds as they actually HELP! If weather is questionable, simply call the studio!
NAILS
Nails show!!! If they have the paint all chipped off it will show. Many casual shots are done barefoot, so don't forget about those toes! Avoid real bright colors. Natural or basic work best. We don't want to draw attention to your neon nails as they may look really bad with your next outfit!
UNDERGARMENTS
It is amazing how many times someone will come in wearing bright colored underwear and not realize it is a problem until they go to put on the WHITE PANTS! Or come in wearing a white bra and put on a black sleeveless shirt. Please bring appropriate foundation wear for each outfit. Flesh coloroed is your best bet. Also, if you need a strapless, bring one. Tucking the straps down usually shows and looks bad. With todays thin fabrics, you might want to carefully select these pieces so they do not give unsightly lines.